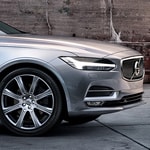 Luxury makes the feel of driving an extremely pleasant experience. A popular luxury wagon found on the roadways is the Volvo V90. It's popular for plenty of reasons, including the many standard safety features found in the vehicle. Those of us at Jack Ingram Volvo Cars are here to help unwrap these safety features.
Forward and rear collision warning helps notify you when a vehicle is getting a bit too close to yours. Avoiding a collision is something you want to do at all times when operating a vehicle. This feature helps to make sure that this can be avoided at all costs.
Rear cross-traffic alert is another feature that helps you navigate the roads. You will be alerted when there is cross-traffic in the rear space of your vehicle. It can sometimes be hard to see everything; these features help to make sure you are covered. See more by visiting our showroom in Montgomery, AL for a test drive.