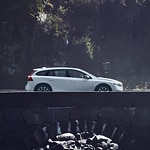 The classic lines of the Volvo V60 combine sport and style, calling to drivers with a sense of tradition. At Jack Ingram Volvo Cars, we know that the most exciting part of choosing this popular midsize sports wagon is selecting the right trim level. The Volvo V60 Inscription, with its emphasis on luxury, provides the perfect balance of comfort and fun.
Slip inside the V60 Inscription, and you'll feel the difference immediately. The standard leather upholstery envelops you in softness, so you can relax. To ramp up the peaceful feeling, the Inscription features driftwood inlays for a soothing, natural vibe.
From the exterior, the Inscription makes a striking statement. It's all due to the chrome accents, which are exclusive to this trim level. The high-shine finish glitters enticingly in the sun, adding a bold pop of style. Ready to see more? Call our Montgomery, AL dealership to set up a test drive.