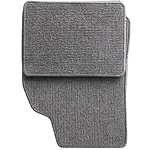 Montgomery drivers want to make the best decisions when it comes to the care of their vehicles. There are lots of choices to make. One such consideration is whether to buy all-weather floor mats or carpet ones. While the staff here at Jack Ingram Volvo Cars can't make that decision for you, we do have some information about each kind that might help you with your decision.
If you want traditional mats that are soft and comfortable in texture, it makes sense that you'd opt for carpet mats. These are easy to find, affordable and come in all sorts of colors. They're usually quite rugged, as well.
All-weather mats are a popular choice for their practical function. These mats are made of an easy-to-clean material such as rubber, plastic or vinyl. If you have small children, you'll appreciate being able to quickly shake away crumbs and spills. Just hose them off for more stubborn messes like mud, dirt and grime.